New Topics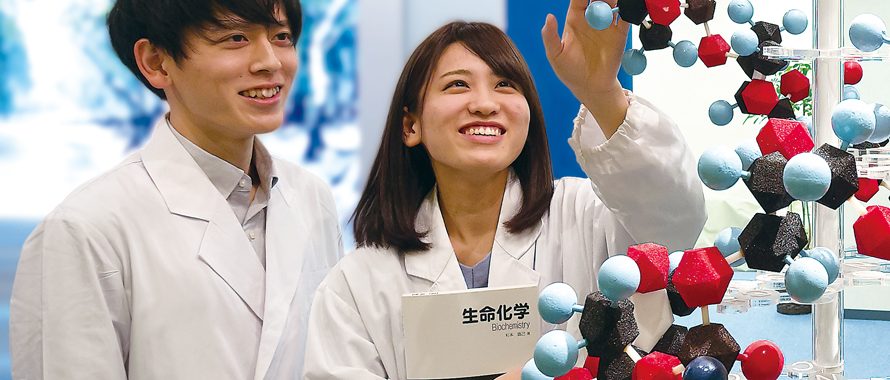 Obtained patent for human lactoferrin Fc fusion protein with improved stability, and hoped for drug discovery such as anticancer drug with few side effects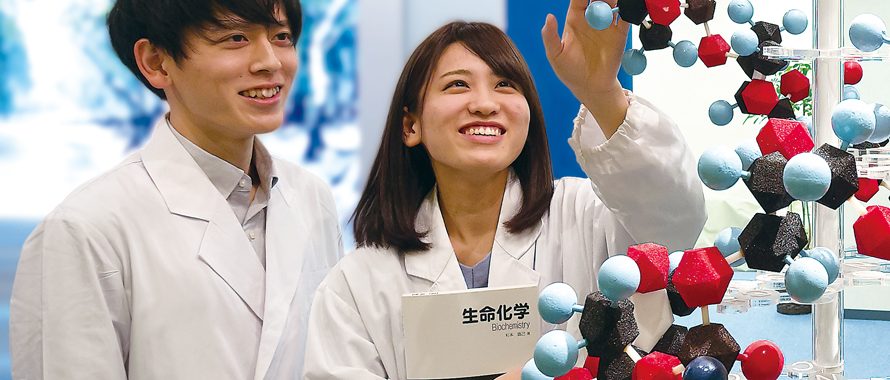 Obtained patent for human lactoferrin Fc fusion protein applicable to anti-cancer drug etc. with few side effects

The research team of Prof. Atsushi Sato et al.,  Department of Applied Biology, Tokyo Institute of Technology (Kachikura-cho, Hachioji-shi, Tokyo ) collaborated with biotech company NRL Pharma Co., Ltd. Has acquired a patent (* 1) of human lactoferrin Fc fusion protein with improved stability in the body. 
In the future, it is expected to be applied to cancer treatment drugs with few side effects, taking advantage of the high safety and physiological activity of lactoferrin.
【background】
Lactoferrin (hereinafter referred to as LF) contained in milk etc. is known as a protein that exhibits various physiological activities such as anti-tumor, anti-inflammatory and anti-oxidation. Cow-derived LF has already been used as a supplement (health food) and many health promoting effects have been reported. This research aims to be the first in the world to be commercialized, focusing on the various physiological activities of LF and the high safety used as food.
In general, protein drugs have had the problem that their stability in the body is low and sufficient drug effects can not be obtained. As a method to solve this problem, a technology to fuse protein drugs with IgG Fc (* 2), which is a part of antibody, is already known and is actually used in clinical practice. However, with this technology, side effects are caused through the activation of immune cells, since it uses a part of the antibody that has the function of eliminating external enemies in immunity.
【Achievement】
In the study, in order to eliminate the activation of immune cells that may cause side effects, IgG Fc is generated in which a part of the human antibody sequence (FIG. 1, hinge region) is deleted. Using this, we succeeded in producing a fusion protein with human LF. This fusion protein significantly improved its stability in blood (Fig. 2) and was confirmed to show no activation of immune cells as a side effect.
This patent recognizes a human lactoferrin Fc fusion protein produced using this technology. This is expected to lead to the development of drugs with enhanced efficacy and improved safety in the body and excellent safety with few side effects.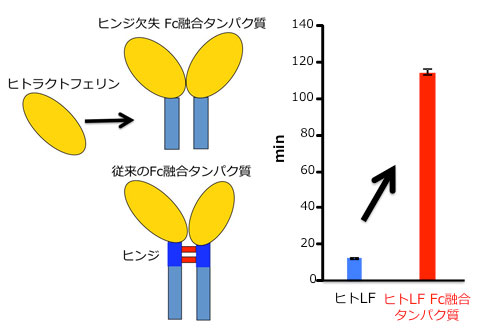 Left: Fusion protein with IgG Fc Right: Fusion with Fc increases half-life in blood
【Social and academic points】
Drugs are expected that take advantage of the various activities and high safety of LF. For example, conventional anti-cancer agents are known to have side effects, but since LF has anti-inflammatory and analgesic effects in addition to anti-tumor effects, anti-inflammatory agents and anti-cancer pain that are side effects can be alleviated. It is expected as a medicine. Furthermore, the human lactoferrin Fc fusion protein developed this time is derived from human, so it has low antigenicity and is easy to use as an "injectable", and it is expected to be highly effective compared to oral intake like supplements. In the future, we will confirm further drug efficacy and safety through animal experiments etc., and will advance development of pharmaceutical companies promoting development in cooperation.
【Glossary】
(* 1) Lactoferrin fusion protein and method for producing the same (patent No. 5855289, registration date: December 18, 2015) 
(* 2) IgG Fc: IgG is a molecule that functions in immunity, and it invades into the body Have the ability to combine with and eliminate external enemies. Fc is part of the sequence.
■ The
research and development type established by NRL Pharma Co., Ltd. , Takuzo Tamura, Professor Emeritus of the University of Tokyo and the late disciple, Kunio Ando, ​​for the commercialization of pharmaceutical seeds and Ascochlorin, which were discovered at the time of the University of Tokyo, as new medicines. Bio venture companies. 
[Company Profile] 
Name: Corporation NRL Pharma (English: NRL Pharma, Inc.) 
Founded: 1998 April 23 
Location: Kawasaki City, Kanagawa Prefecture Takatsu-ku, Sakado 3-chome No. 2 No. 1 Kanagawa Science Park East Building 203 
representatives : President and Representative Director Tatsuo Hoshino 
Website URL: 
http://www.nrl-pharma.co.jp/
■ Tokyo Institute of Technology Department of Applied Biology Satoru Sato Lab (Biological Drug Discovery)
We are conducting research on biomedical drug discovery based on gene recombination, biochemistry, and cell culture technology. 
We are promoting the "manufacturing" of drug discovery based on engineering ideas. 
Main research themes 
1. Functional analysis of lactoferrin, a multifunctional protein that functions in innate immunity 
2. Development of next-generation lactoferrin preparation as a drug 
3. Development of stabilization technology for new protein drugs 
4. New peptide, the creation of nucleic acid using phage display and aptamer method 
5. Development of new therapy using extracorporeal circulation module